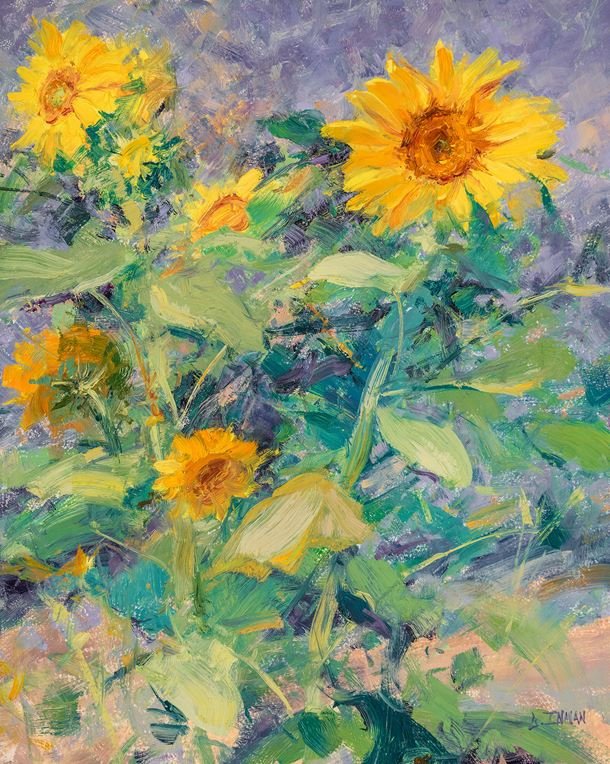 Bees' Retreat - Oil, 20 x 16, BI44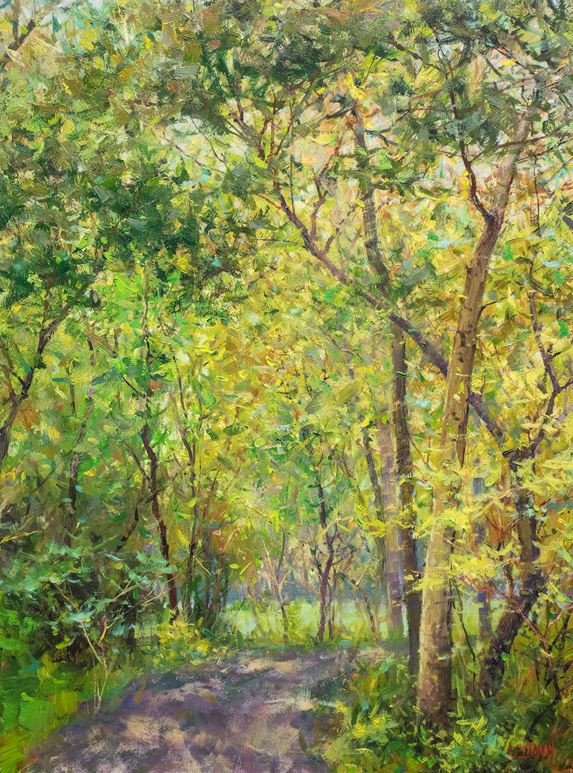 Sun Dappled - Oil, 24 x 18, BI43
Brown County Fall – Oil – 6x8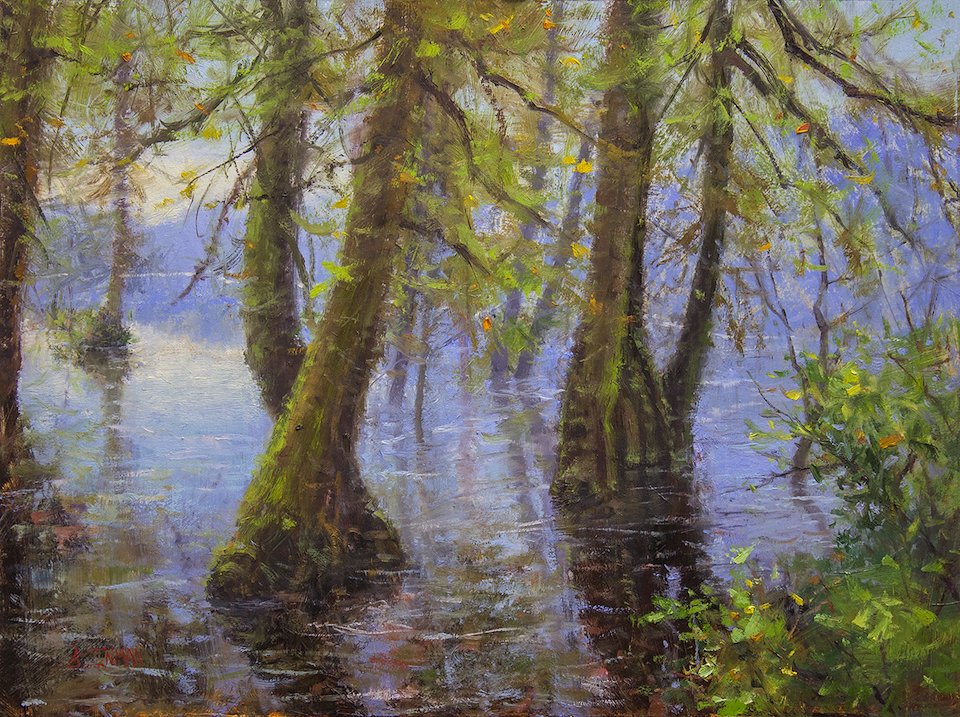 Cypress – Oil – 12x16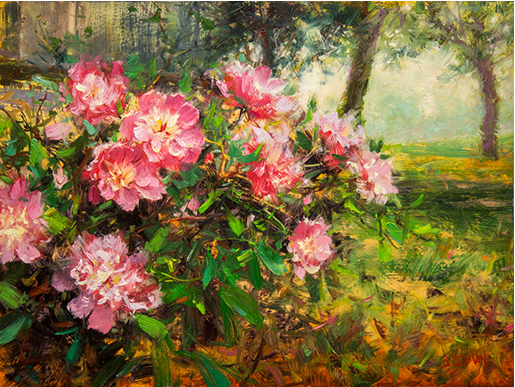 Peonies, Oil – H 12 X W 16, #BI-33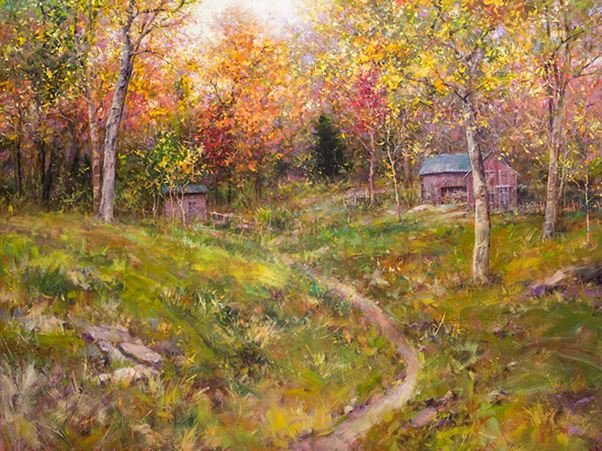 Legacy, Oil, W36" x H48", #BI-32
Sweet Summer Days Roses, Oil – H 18 X W 24, #BI-34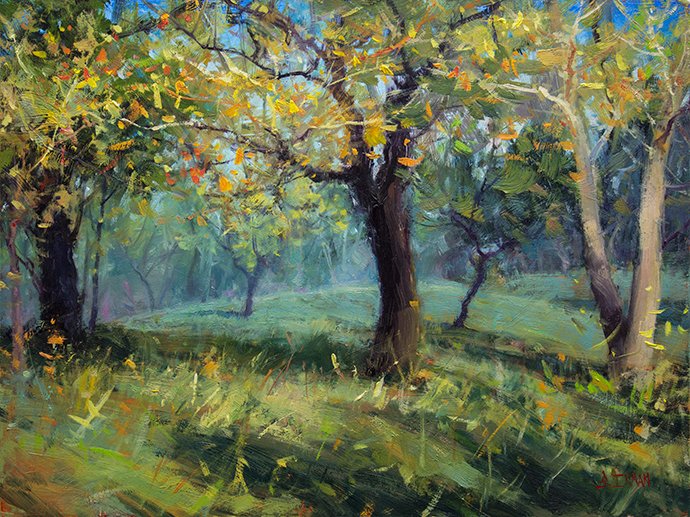 McCullough Park, Oil, W 16" x H 12", #BI-25
Enchanted Evening Aspen Trees, Oil, W 24" x H 20", #BI-02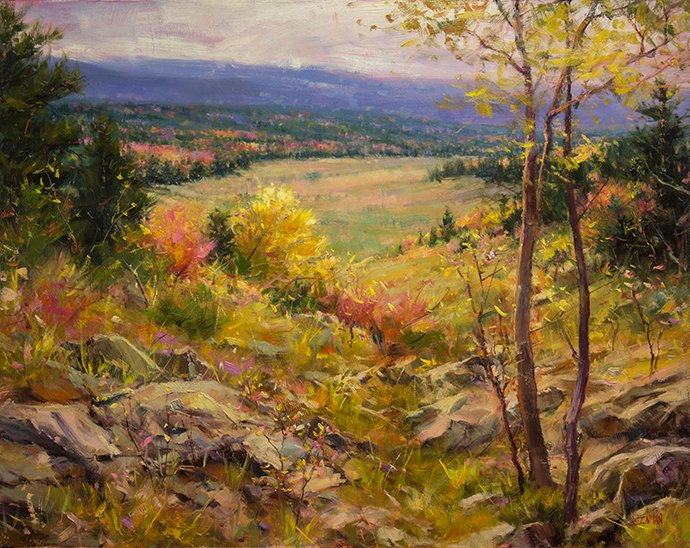 Cool Autumn Days, Oil, W 30" x H 24", #BI-23 SOLD
Indiana Autumn – Oil, W 24" x H 36", #BI-24, SOLD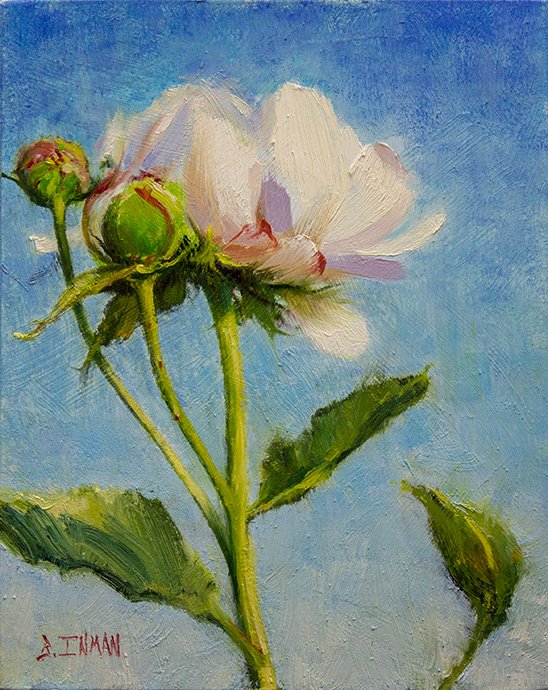 Peony, Oil, W 8" x H 10", #BI-15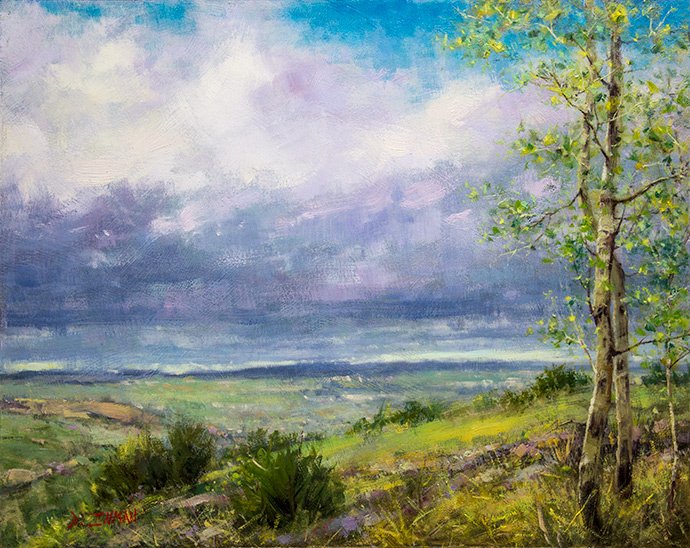 Guardians of the Valley, Oil, W 20" x H 16", #BI-16, SOLD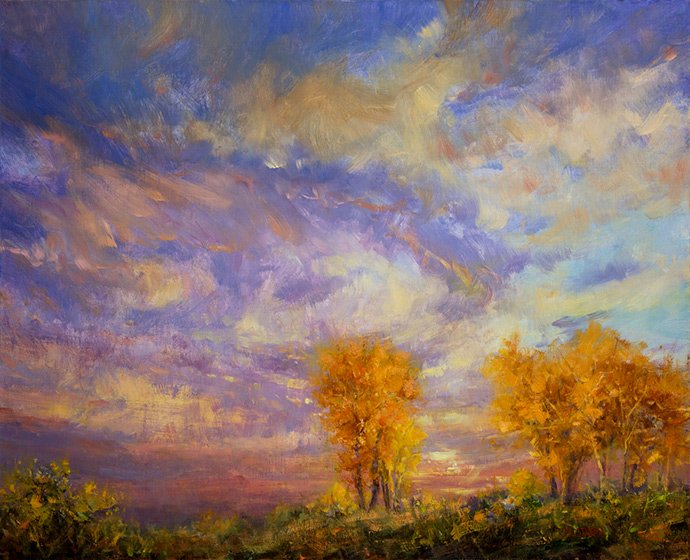 Windsong, Oil, W 24" x H 20", #BI-13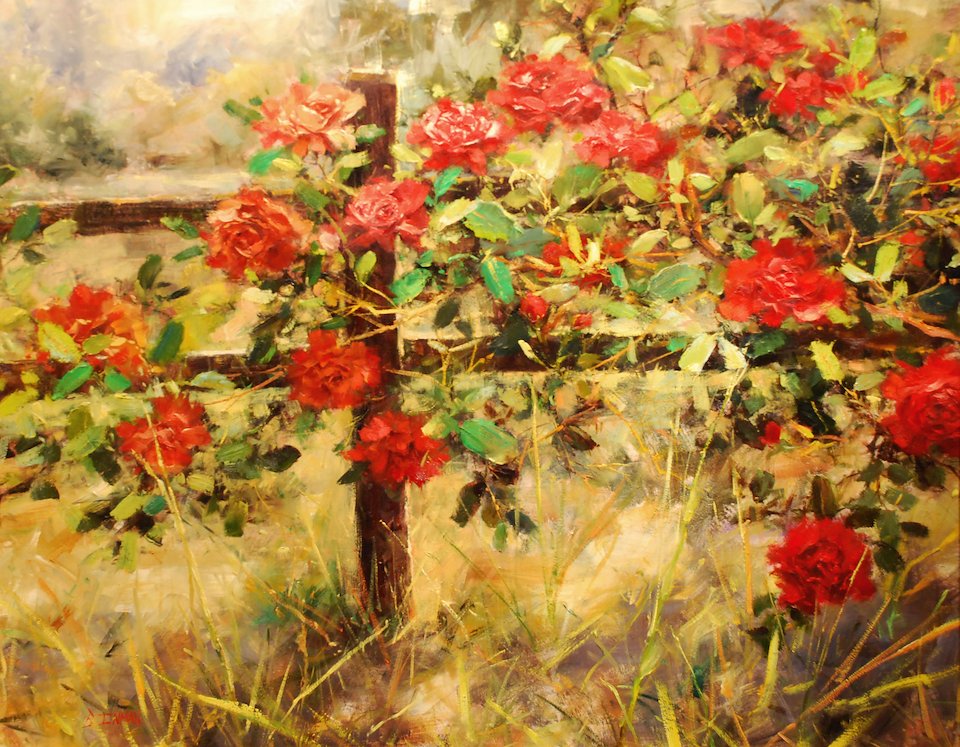 Hanging Out, Oil, W 30" x H 24", #BI-12, SOLD
Bill Inman
"ARTWORK FOR THE SAKE OF BEAUTY, EXCELLENCE IN CRAFTSMANSHIP. WHEN FRIENDS LEAVE YOUR HOME THEY'LL WANT ONE OF THEIR OWN!"
It was 1978 and I was 12 years old when my teacher grabbed me by the ear and yanked me up in front of the class. She claims she called my name three times, I didn't hear a thing. I'm afraid my daydreaming didn't appeal to her at all.
I have a consuming imagination that is so much fun I've never been bored a day in my life. I would love to slow every day down to give me more time to learn and discover and paint – there are so many fascinating things to do. Life is full of joy and a healthy imagination makes ordinary moments spectacular!
Growing up with an artist for a father I was exposed to the art world at a young age. I still have vivid memories of the Laguna Arts Festival and trips to the museums back in the early '70s. That exposure and the encouragement of my parents fostered an on-going thirst for knowledge and a deep desire to create art. I drew and painted constantly from kindergarten on.
High school was a time of experimentation – okay, not that kind of experimenting, I'm talking about art here – I played with all the styles and directions I could find, from Cubism to Impressionism, with charcoal, watercolor, pastel, assemblage, clay, printmaking, anything I could get access to. I finally realized that Impressionism and Realism were my favorite styles and I really got into pastels. I think using pastels was a good way to learn color – they were harder to muddy up than oils. The first painting I sold in a professional gallery was a pastel landscape when I was 17.
I had it good growing up – living in so many inspiring places, from ocean views near San Juan Capistrano to the woods and creeks of Western Montana and eventually the Alaskan Frontier. Maybe that's why I feel at home wherever I go. I want to paint it all.
The term 'plein-air painting' is on every artists' tongue today, but when I started going out on location with watercolors and pastels in the mid 80's I had never heard the phrase. That was risky business in Fairbanks, Alaska because the mosquitoes there could carry away a small moose. I didn't realize how important that process of working from life was at the time, I just wanted to have my favorite subjects right in front of me.
Once college grabbed me I dove right in and focused my energy on solidifying my draftsmanship, color and design and technical skills. I've had some incredible instructors including Leon Parson (a graduate of Art Center in Pasadena), Arlo Coles (a good friend of Sergei Bongart), Kessler Woodward, and Mic Jilg. Leon was and still is a demanding and incredibly skilled illustrator/fine artist and Arlo ignited a passion within me for Russian Impressionist imagery and techniques.
Jackson Hole, Wyoming was only a couple hours from Ricks College (now BYU Idaho). I had one of my most profound experiences in the Wildlife Art Museum when I sat on a bench in a round room with walls covered with Carl Rungius' paintings. Tears slipped down my cheeks. The work was so beautiful. I asked a simple prayer that someday my art would be that good, and touch someone's heart like those paintings did mine.
After six years painting primarily en plein air, I began working a lot more in the studio with occasional outdoor expeditions. I become so focused that disturbances such as wind and shifting sun become distractions – don't get me wrong, I am outdoors learning the effects of light and color all the time, everywhere I go I am studying nature, I love it, that's why I paint flowers and landscapes – I just want to make sure that I am fully engaged and can see clearly what I am placing on the canvas. I'm so concentrated when I paint a grizzly bear could sit down next to me and I would miss it.
On-location studies, memory, imagination and digital photos are my references to create my naturalistic works. My goal is to help viewers feel like they are looking out a window or doorway into a beautiful scene, one that beckons to forget the world for a while and simply enjoy the peace and serenity, the incredible beauty Heavenly Father has provided.
The goal is to use as little detail as possible to convey an image so the viewer's imagination participates. My desire is for the observer to experience the same original enthusiasm that I felt. "Flowers seem so alive" collectors often comment that "they can smell the fragrance".
My work has sold consistently through galleries since 1983. Although I haven't actively sought out recognition in the past, I was one of the featured artists in Southwest Art Magazine's "Artists to Watch" section. I am in numerous national and international collections from Switzerland to Saudi Arabia and throughout the United States and Canada.